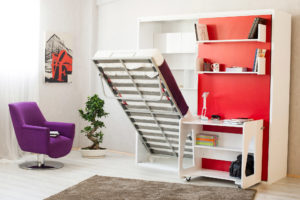 SMART UNITS FOR SPACIOUS LIVING
It is not an easy task to design the right living space for teens. What are the essentials? A study desk of right size & design to maximize concentration, a comfy bed, and functional storage units… How about some room to breathe though? In today's tiny living spaces, the biggest challenge is to 'free up some space' for fun activities, because teens spend most of their time in their rooms. With this in mind, GAYSAN produces multi-functional teen room units on highest criteria, both in terms of style and quality of manufacturing, offering the best solutions to create multi-functional spaces.
One Room, Two Kids + A  Friend
Kids can share a room in peace with Twin Bunk Set: An easy to climb bunk bed, a comfy bed below, a wide desk with a surface of 2 m2, and a trundle bed for their friends. The trundle bed compartment can be optionally used as a wide storage space. Both the desk and lower beds can be rolled under the bunk bed, freeing up lots of space for pillow fights.
Five Functions in 4 m2
2 meters of wall is enough for a bed, a wardrobe, a desk, bookshelves and a mirror! STUDIO 5 adapts easily to all interiors and maximizes the living space by providing all functions in a single unit. Why not use the opposite wall as a screen for the movie projector?
Decorate the SIMPLE Line Products Yourself
The minimalistic design of SIMPLE line wallbeds may as well serve as an open canvas for art lovers. Decorate it with posters and stickers, create your own style!
PRIMER QUEEN
Low Cost
High Quality
Primer Queen from the INBOX COLLECTION is flat-packed in small and light packages to lower costs of delivery and e-trade, and to minimize damage during deliveries. Its smart design makes this bed the perfect space-saving solution for a lounge area or guest room.